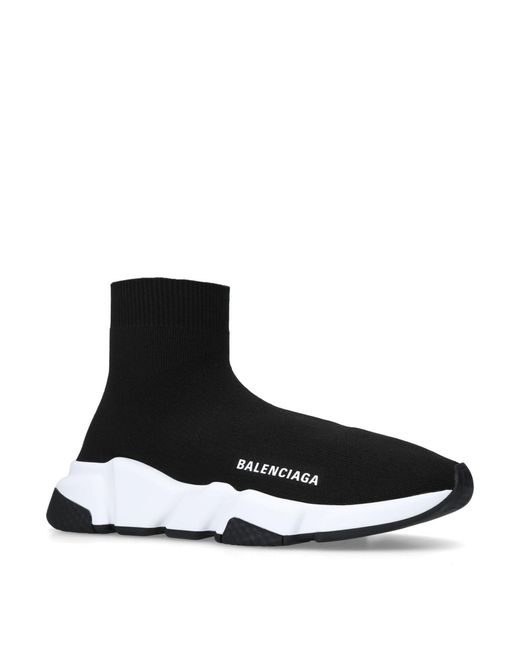 Women's Black Speed 2.0 Sneakers
Details
2017 was described by Vogue as 'the year of the Speed', as it crowned Balenciaga's sock-style sneaker the defining shoe of the season. Having been embraced wholeheartedly by fashion's elite, it's coveted for its supreme comfort as much as its ultra-sleek aesthetic. The Speed 2.0 model develops the era-defining silhouette further with an ultra-articulated sole that continues to solidify the presence of knitted sneakers. Fabric/Rubber. Colour: black
From Harrods
Speed Sneakers
2017 was described by Vogue as 'the year of the Speed' as it crowned Balenciaga's sock-style sneaker the defining shoe of the season. Having been embraced wholeheartedly by fashion's elite, it's coveted for its supreme comfort as much as for its ultra-sleek aesthetic. The era-defining silhouette brought knitted sneakers to the luxury mainstream as other brands follow suit in an attempt to capture the effect. Fabric/Synthetic/Rubber.
From Balenciaga
Speed Sneaker
Speed Sneaker in black knit, black and white sole unit. Sock-like design Technical 3d knit. Black and white sole. Ultra-flexible molded sole. Ergonomic sole with "no memory" technology. Extra light: 240g, nearly barefoot feel. White logo at side. Embossed logo on the back of the sole. 10 mm arch. Made in italy. Do not machine wash, wipe with a soft cloth. 80% polyester, 20% elastane.
From FARFETCH
Speed Clear Sole Sneakers
In a need for speed? You're in luck. These Balenciaga sneakers are super lightweight with a knitted sock upper and an ergonomic shock absorber clear sole. Be prepared to fly out in all-out comfort. Featuring a sport sock style, an almond toe, a printed logo, a platform sole and ergonomic clear sole.
From 24S
Speed Lt Trainers
The Speed LT trainers from Balenciaga have a very thick sole to ensure you maximum comfort. Their high and refined shape adopts perfectly to a classy sportswear style.
From Cettire
Speed 2.0 Sneakers
Dimensions: Heel: 4cm, Sole: 1cm 80% Polyamide, 20% Elastane. Made in Italy.