7 Signs Teens Are Shaking Up Prom Fashion
Analysing search and sales data across 12,000 online stores and designers, we've compiled these 6 key insights into how teens are shopping for the all-important prom dress this year: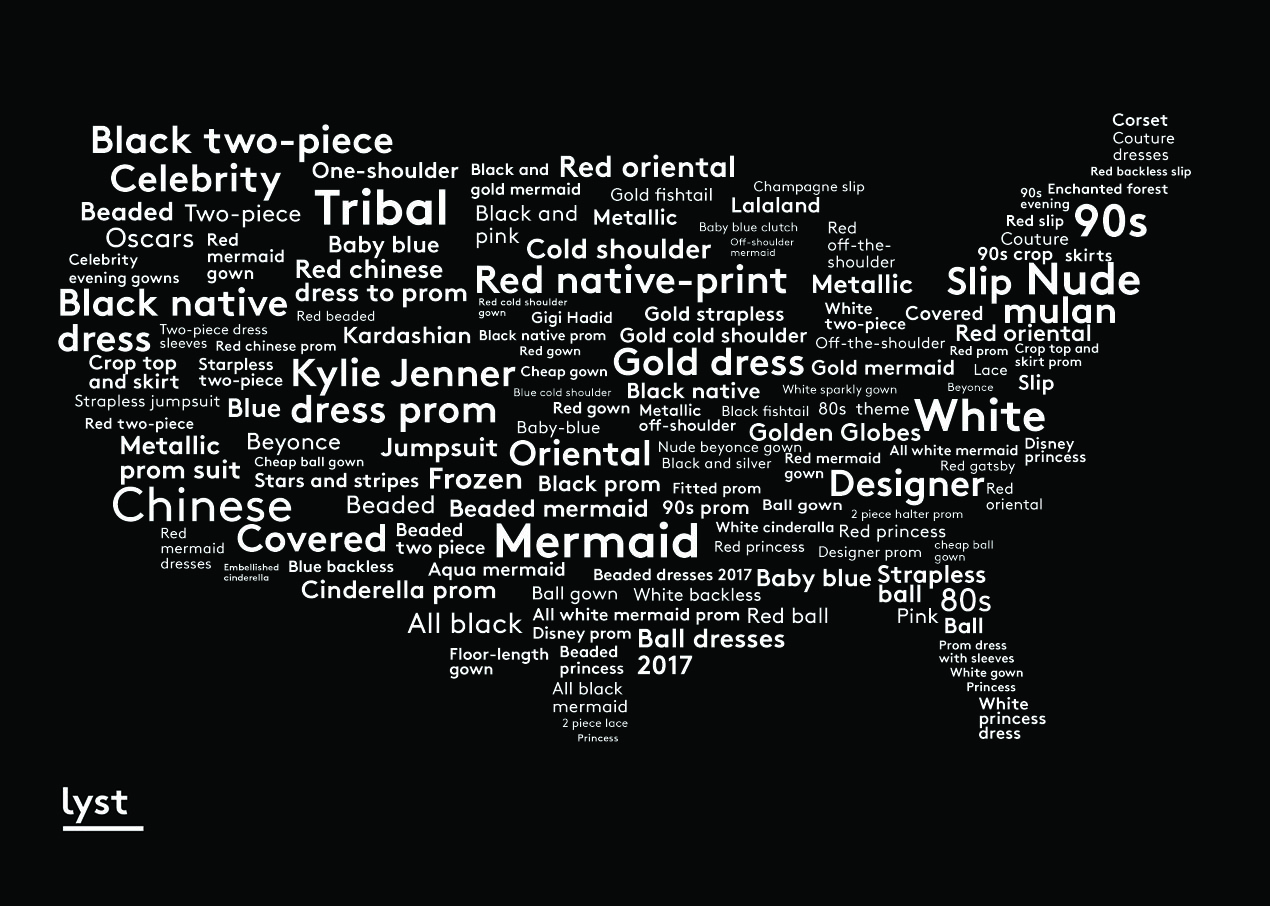 1. Proms Are More Woke Than Ever
The Time's Up movement took the Golden Globes by storm and data shows that teens are actively taking a stand by choosing to wear black to prom.
Searches for black prom dresses have increased by 53% in the last year, whereas searches for pantsuits and jumpsuits have increased by 42%.
2. But There's Also An Escapist Outfit Trend
Some of the search terms used alongside 'prom dress' queries reveal teens are finding fantasy inspirations: Mermaid, Disney, Mulan, Cinderella, Belle and La La Land all feature in the 250 most searched-for prom fashion terms across the country (as visualised in our word cloud map).
3. Prom-goers In The West Coast Look To Trends Over Tradition
Teens in the west coast are taking the most fashion risks, with slip styles and two-piece dresses being the most popular dresses in this region.
Searches for women's pant suits were also at an all-time high in west coast states.
After a teen's controversial asian-inspired dress went viral, we saw an +89% increase in searches for this style in the following week.
Prom-goers in the south are more likely to stick to traditional silhouettes with 'mermaid' and 'princess dress' styles being the most popular.
4. Teens In The South Spend The Most Money On Prom Dresses
Prom is more of a celebrated occasion in the south than any other region.
Teens in the south spent an average of $380 on a dress, over 50% more than teens in the Midwest, who spent the least on prom. However the average spend on a dress has decreased by -12% overall, from $150 to $132 year-on-year.
Searches for prom theme related searches such as 'disney prom dress' were overall highest in Southern states.
5. White Dresses Are More Popular Than Ever Before
While black prom dresses were overall the most popular, they were closely followed white styles.
Sales of white dresses have increased the most from last year (+49%), with red styles not too far behind (+28%).
Metallic dresses and gold styles in particular are also proving popular, rounding out the top 5.
6. High School Prom Dress Codes Are Having An Impact
Teens in the US, regardless of region, are becoming more conservative than ever in their choices of prom attire.
Searches for short prom dresses are at an all-time low, decreasing -49% from last year.
Modest dresses are becoming more popular too; long sleeved and high neck styles have seen a combined 47% increase in views year on year.
Sales for backless, and leg baring high-low and slit dresses are also down -33% from last year.
7. Kylie Jenner Is The Ultimate Prom Style Icon
Kylie Jenner's 2017 Met Gala look has proved popular, with searches for the terms 'Kylie beaded dress' and 'embellished dress' up collectively 46%. Zendaya is also a rising prom icon. After she wore a sequin-embellished mermaid-style Michael Kors gown to this year's Vanity Fair Oscars party, we saw a 31% increase in searches for 'nude mermaid gown' the following week.